Memorial Masonry
In 2008 Thomas Brown & Sons Ltd started their own memorial masonry service. State of the art stone engraving machinery has been installed in our memorial workshop which allows us to cut lettering and images, the same equipment is also installed into one of our vans which allows us to add additional inscriptions to memorials in cemeteries. MASONART computer design software was installed and our staff are fully trained in all aspects of work.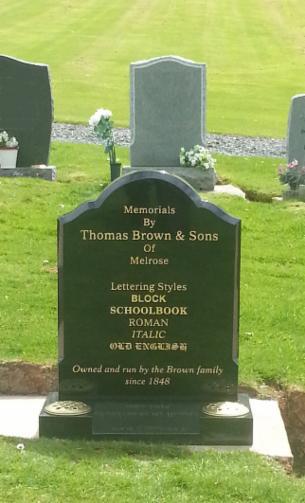 We can supply, letter and erect a vast choice of memorials, each one specifically designed to suit requests and very competitive prices. Brochures are available on request.
We also carry out the following remedial works to existing memorials
Cleaning and repainting/gilding
Re-erecting of fallen memorials
Pinning and re-fixing
Adding additional inscriptions
All enquiries are surveyed free of charge and estimates provided
Re-erecting a fallen memorial
New Memorials
Please click on the links to download our 2022 memorial brochure and price list. Prices are based on fitting a memorial within the Scottish Borders including inscription of 80 letters and VAT, additional letters charged at £2.95 each.