Thomas Brown & Sons originally traded from Nisbet near Jedburgh, before moving to Melrose in 1848, they soon established premises in East Port, early documents showed they were involved in the making of timber templates for the building of the Leaderfoot Viaduct, also joinery work in building Earlston Parish Church in 1893. Thomas died in 1894 and the business was taken over by his son Alec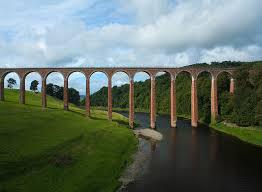 Leaderfoot Viaduct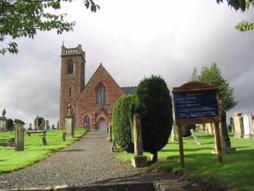 Earlston Parish Church
Pre First World War the company employed a large workforce of joiners, it was a known fact at this stage you either had to play rugby for Melrose, serve with the Border Rifles or Territorials to gain employment with them. With the outbreak of the First World War many of the workforce were called up never to return, this left the business in financial difficulties not being unable to complete contact works. Alec Brown died in 1935 and the business was taken over by his nephew Robert (Bob) Brown.
Bob was an engineer to trade but also served his time as a joiner slowly rebuilding the business after the First World War. New joinery machinery was ordered in 1939 but was never delivered due to the outbreak of the Second World War. Bob was joined by his son Derek in 1948 and ran this business till his death in 1966.
Derek did his National Service with the Royal Scots, played rugby for Melrose, South of Scotland and represented the Barbarians on two occasions. He successfully built up a good workforce of joiners, many of them relations, The business was always busy with Derek running the funeral side along with joinery, his love of rugby saw him serve on the Melrose Committee all his life and also serve on the committee of the Scottish Rugby Union being elected as President in 1999. Derek was joined by his son Robbie in 1984.
Derek and Robbie along with their staff conducted funerals and ran the business together till the late 90s
With the funeral side always busy Robbie started to develop parts of the old workshop to accommodate funeral facilities.
Many items of interest were found during the renovations including the "trap rails" from horse drawn carts used before motor vehicles, hand lighten gas lights from Melrose High Street, also a Well, which dates back to the building of Melrose Abbey and is situated under one of the garages.
In 2002 Robbie retired from playing rugby with a career almost identical to his father's representing Melrose, South of Scotland and the Barbarians. Robbie then took over the full running of the business with his wife Jackie. They then set out to completely renovate the property in East Port turning into a modern funeral home with all required facilities.
Our first new fleet of Volvo funeral cars were purchased in 2006 and then upgraded again in 2015, Our own Memorial business started in 2008 when we purchased headstone lettering machinery.
Derek died in 2013 and at present Robbie and Jackie are joint Directors of Thomas Brown & Sons Ltd, They have now been joined in business by their son Thomas (Funeral Director) and daughter Laura (Office Administrator)